Have you tasted Northern Thailand's delicious coconut curry noodle soup? Give your tastebuds a special surprise and try the best khao soi in Chiang Mai.
What is Khao Soi?
Khao Soi — a rich and hearty noodle soup — is a traditional Northern Thai cuisine. Its origins trace back to the influences of Chinese-Muslim traders, combining both Thai and Burmese culinary traditions.
The base of the dish is a creamy coconut milk broth, infused with a blend of spices and curry. Within the broth swim yellow egg noodles, which offer a delightful contrast in texture to the crispy fried noodles sprinkled on top.
Typically, the main protein is chicken, beef, and pork – you can kind a meat-free khao soi from these delicious vegetarian restaurants.
The dish is complemented with a side of pickled mustard greens, shallots, lime, and fiery chili paste, allowing diners to customize the flavor and heat to their preference.
A bowl of Khao Soi is not just a meal but an exploration of textures and flavors – crunchy, soft, spicy, tangy, and creamy all in one.
What makes a Good Khao Soi?
Here are the key ingredients behind the best Khao Soi in Chiang Mai:
Protein: Most commonly chicken (Khao Soi Gai) or beef (Khao Soi Nua), though variations with pork or tofu can also be found.
Egg Noodles: Soft boiled noodles are mixed into the soup, and crispy fried noodles are added on top for a crunchy contrast.
Curry Paste: A blend of spices including dried red chilies, garlic, shallots, lemongrass, ginger or galangal, coriander roots, and turmeric.
Coconut Milk: This gives the broth its creamy consistency.
Broth: Typically a chicken or beef broth, depending on the protein being used.
Seasonings: Fish sauce, palm sugar, and tamarind paste to balance the flavors.
Toppings and Sides:

Pickled Mustard Greens: Adds a tangy contrast to the creamy soup.
Red Onions or Shallots: Usually sliced thinly.
Lime wedges: For a zesty squeeze on top.
Chili Oil or Chili Paste: For those who desire extra heat.

Herbs and Spices: Ground coriander, ground turmeric, and possibly curry powder, depending on the specific recipe.
Khao soi is my favorite dish in Chiang Mai, from the spicy and creamy broth to the soft and crispy noodles. I love how the dish can be customized with various toppings, making each experience new and unique.
Best Khao Soi in Chiang Mai
Save this map for when you come to Chiang Mai and let me know your favorite khao soi spot in the comments below.
⭐⭐⭐⭐⭐ 4.3 (1,058 reviews)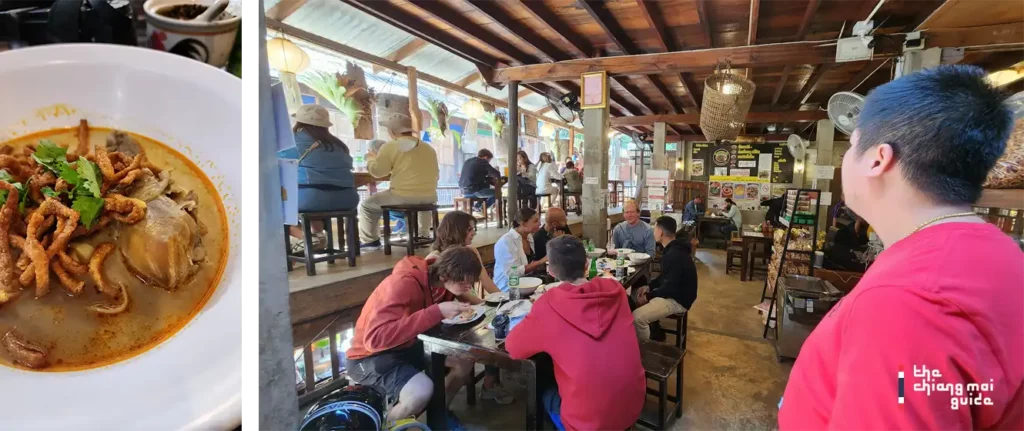 Nestled amidst the bustling lanes of Mae Kampong Village you'll find Kao Soi Gloijai, a haven for khao soi enthusiasts. This cozy eatery takes uses a generations-old recipe is, in my opinion, the best khao soi in Chiang Mai!
The authenticity of their dish captures the essence of Northern Thai cuisine at its best. When you walk in, you'll see an enormous pot of bubbly, creamy khao soi brother with workers pumping out bowl after bowl until closing time.
---
2. Hoi Khaa Rim Ping Noodles (get directions ↗)
⭐⭐⭐⭐⭐ 4.3 (1,058 reviews)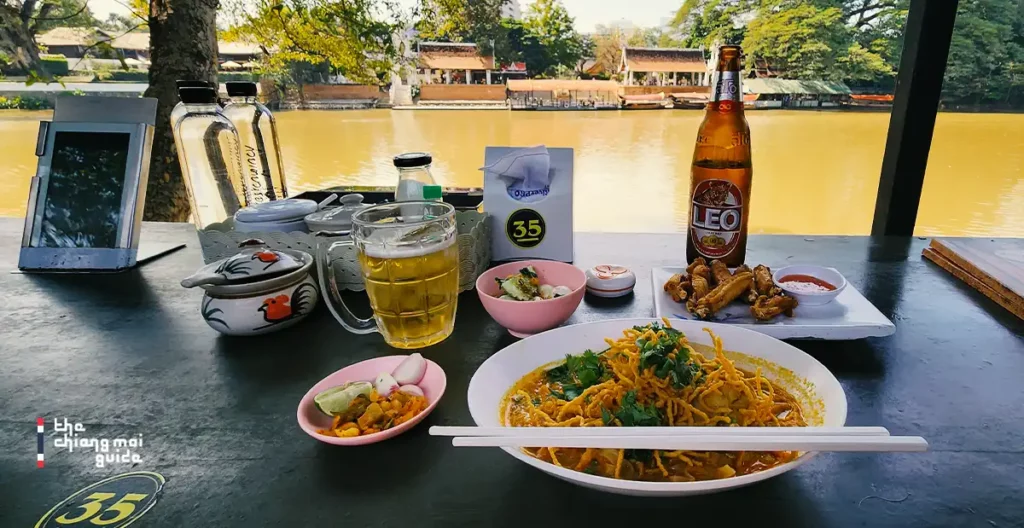 Overlooking the serene Ping River, Hoi Khaa Rim Ping Noodles is the best place for riverside luncheon. Their Khao Soi is also incredible cheap, costing just 25 baht (€0.51/$0.56) for a small bowl and 40 baht (€1.03/$1.13) for a big bowl.
Beyond the food, the scenic view and the gentle breeze from the river with herons dance hunting for a fishy meal. While a preferred spot for many locals, it's also an undiscovered treasure for many travelers.
⭐⭐⭐⭐⭐ 4.3 (1,303 reviews)
Update coming soon… I'll be going to this restaurant before the end of August 2023. If you're reading this blog and want to join me, shoot me a DM on Instagram!
Vegetarian Khao Soi Restaurants
Not a meat eater but still want to try Khao Soi? Check out any of these vegetarian restaurants in Chiang Mai:

Aum Vegetarian Restaurant is a sanctuary for plant-based lovers in Chiang Mai. Nestled in a serene corner of the old city, Aum has been catering to vegetarians and vegans for years.
Their vast menu encompasses Thai classics, reimagined without meat, ensuring that even the strictest vegetarians don't miss out on the rich flavors of Thailand.
Whether you're a dedicated vegan or someone exploring vegetarian options, you gotta try a bowl of khao soi while you're here in Chiang Mai.
Renowned for its Shan-inspired dishes, Payod Shan Food delivers vegetarian and vegan delicacies from Myanmar. While it may lack the grandeur of some eateries, you'll be able to enjoy a meat-free khao soi that emphasizes authenticity and good taste.
Where's Your Favorite Khao Soi Restaurant?
I'd love to know what you think is the best khao soi in Chiang Mai. Let me know in the comments below!