Within the captivating mountainous region of Northern Thailand lies a gem that brims with culture, history, and nature's allure: The Doi Pui Hmong Village. This enclave, set against the backdrop of Doi Suthep, serves as both a window to the past and a testament to the resilient spirit of the Hmong community.
Doi Pui Hmong Village in Doi Suthep
The Doi Pui Hmong Village is located 25 km from Chiang Mai's old city as the top of Doi Suthep National Park. Within this small village live 2,000 to 2,500 people of Hmong people, an ethnic minority that migrated to Thailand from China.
The Hmong began migrating to Southeast Asia around the 18th century due to political unrest, wars, and pressures from the Chinese majority. Their journey led them to the northern regions of Vietnam, Laos, and Thailand, particularly the highlands of Chiang Mai.
Historically, the Hmong people settled here in 1975 after the goverment forced them to move to a higher place in thee mountains. Today the Doi Pui Hmong village has become a popular tourist destination and a time capsule into local culture.
Is the Village Worth the trip?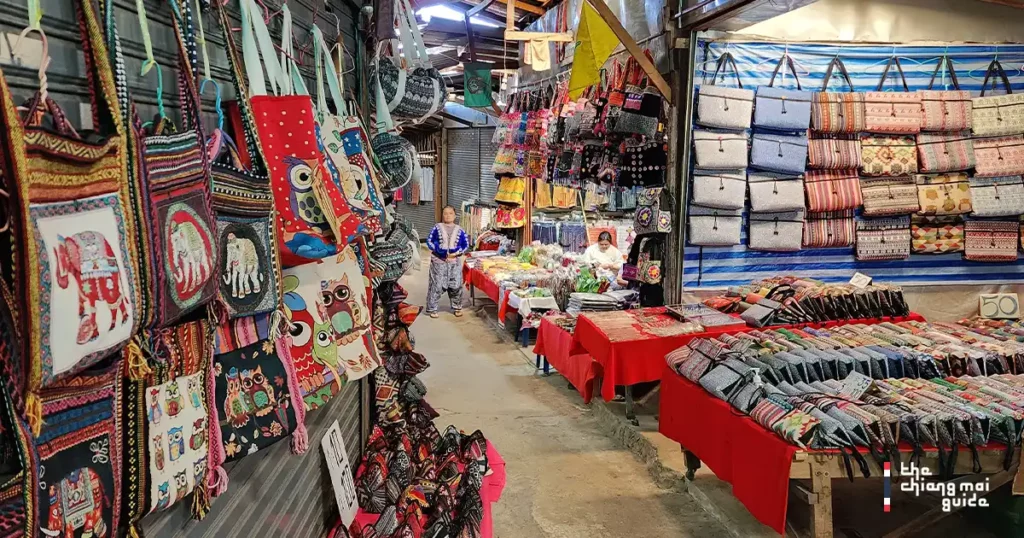 While some people reviews say Doi Pui is just a tourist trap, I believe its a must-see after visiting Wat Phrathat Doi Suthep. While the majority of income from the Hmong people rely heavily on tourism, all income made at the markets and restaurants go directly in their pocket.
So making any purchase, whether its putting on vintage Hmong clothes, enjoying a cup of coffee overlooking the village, or taking home a souvenir — you're making a contribution to this local community.
Costume Rentals in Doi Pui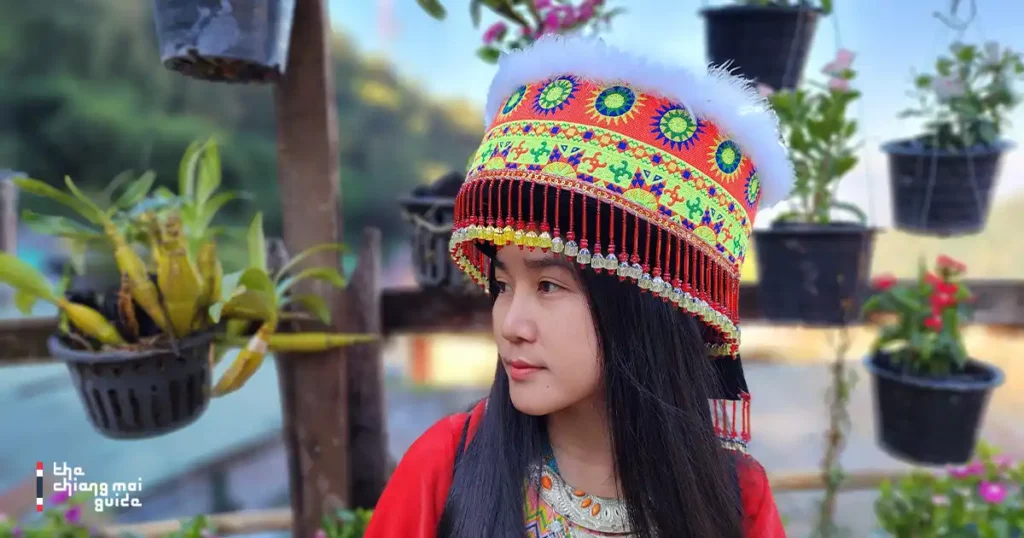 This was my favorite part of my visit to Doi Pui Hmong Village. Near the entrance to the flower gardens and the heart of the village are shops where you can rent a traditional Hmong costume.
It costs between 300 to 500 baht per person (depending on your negotiation skills).
Hmong clothing uses bright colors of pinks, reds, greens and blues. From a young age, Hmong girls learn how to sew motifs and traditional patterns from their mothers and grandmothers.
If you're wondering why are the clothes so colorful, that's because the prior to the 20th century, the Hmong had no form of written language. Instead, the Hmong people communicated ideas and narratives onto beautifully intricate pieces of cloth. The fancy chains and jewelry also represent wealth and prosperity.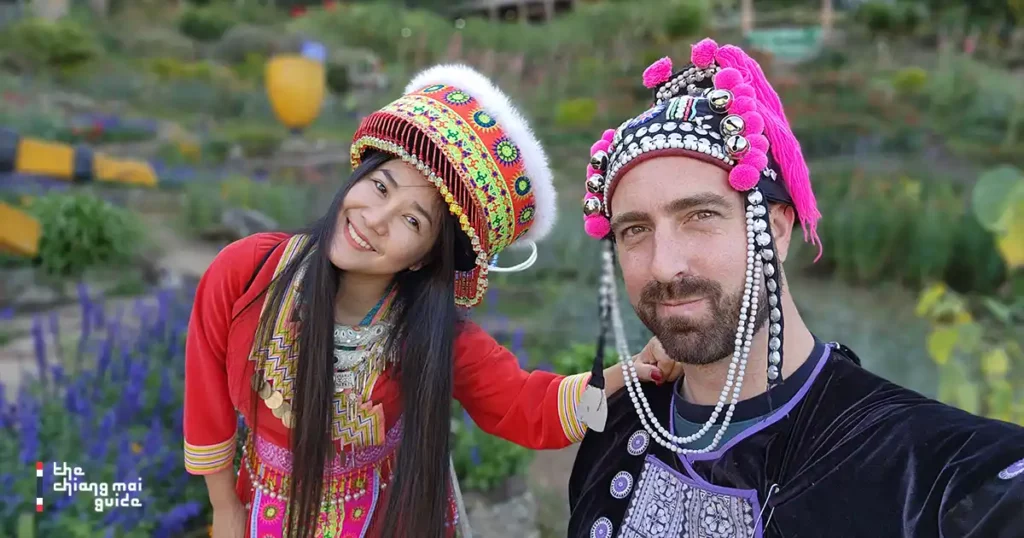 What time does Doi Pui Village Open?
The best time to visit the Doi Pui Village is early morning. Sometimes the afternoon soon can make or break your trip in Chiang Mai due to temperatures reaching 40°C (104°F).
Opening Hours: Monday to Sunday, 8 AM – 5 PM
Things to See and Do:
Traditional Hmong Houses: Explore authentic Hmong houses made of bamboo and thatch. These are a testament to their adaptability to the mountainous environment.
Hmong Museum: There's a small museum within the village that showcases traditional Hmong attire, farming tools, and household items. This gives a deeper insight into their history and way of life.
Shopping: Stalls and markets abound, where you can purchase handmade Hmong crafts, including embroidered garments, silver jewelry, and bags.
Opium Exhibit: Given the history of opium cultivation in the region, there's an exhibit dedicated to educating visitors about its impact on the community and the region at large.
Local Cuisine: Try out traditional Hmong dishes at the local eateries. Their food is a mix of Thai and tribal influences, offering a unique culinary experience.
Nature Walks: The village is surrounded by beautiful forests and mountain views. A nature trail winds through the village and surrounding area, providing a chance for treks and bird watching.
How to get to Doi Pui Hmong Village?
There are a few ways you can travel to Doi Pui Hmong Village:
Songthaew (Red Trucks)

Pros: Authentic local experience, very affordable.
Cons: Fixed routes, may have to wait for a full load before leaving, can be crowded.
Approximate Price: Around 40 to 100 THB for a single trip, depending on your bargaining skills.

Private Car

Pros: Comfort, flexibility in schedule, potential for multiple stops.
Cons: Can be more expensive than other options.
Approximate Price: Depending on the rental agency and car model, expect to pay between 800 to 1,500 THB per day, excluding fuel.

Motorbike or Scooter Rental:

Pros: Freedom to explore at your own pace, cost-effective for longer stays.
Cons: Riding can be challenging for novices, especially on hilly terrains; safety concerns.
Approximate Price: Around 150 to 300 THB per day, excluding fuel.

Guided Tour Package

Pros: Hassle-free, includes other destinations, knowledgeable guide.
Cons: Fixed itinerary, might be pricier.
Approximate Price: Varies widely, from 800 THB to 3,000 THB or more, depending on the length and inclusivity of the tour.
Will you visit the Doi Pui Hmong Village?
Doi Pui Hmong Village isn't a mere dot on a traveler's map—it's a universe of stories, traditions, and experiences. As you tread its paths, you're not just a visitor; you become a part of its tapestry, woven with threads of history, culture, and nature.
So, when in Chiang Mai, let Doi Pui be more than a destination—let it be an experience that stays with you long after you've left its bounds.