When people talk about Chiang Mai, temples, delicious Thai food, and serene landscapes come to mind. However, another vibrant feather in Chiang Mai's hat is the Bo Sang Village Umbrella Festival. Discover this lesser-known gem with its beautiful blend of culture, history, and artistry that will leave you spellbound.
the History of Bo Sang Village
Bo Sang's legacy is synonymous with its beautiful paper umbrellas. A symbol of the region's rich past, these umbrellas aren't just colorful souvenirs; they're echoes of an age-old tradition.
Tracing back nearly two centuries, the craftsmanship of these umbrellas involves a tale of a wandering monk, Kruba Intha, who, impressed by the quality of an umbrella gifted to him on his travels, decided to learn the craft and introduce it to his hometown in Chiang Mai.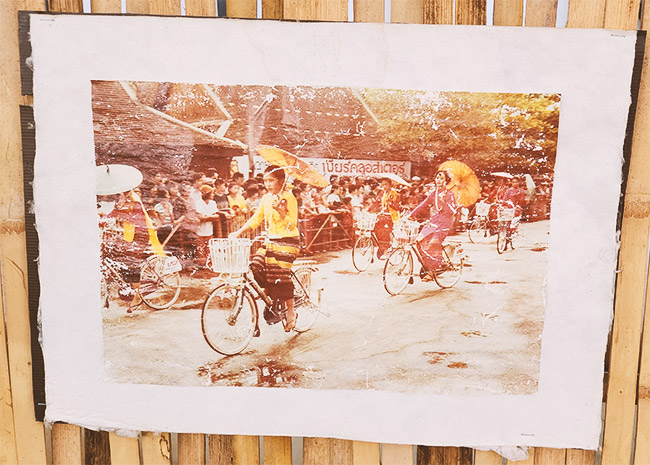 However, the journey of the Bo Sang umbrella hasn't been without its share of ups and downs.
Once a thriving industry, these umbrellas graced major town events and became synonymous with Chiang Mai's identity.
Over time, though, as modern products took the market by storm, the traditional Bo Sang umbrella seemed to fade into oblivion. Despite this, the Bo Sang Village Umbrella Festival has been a beacon, shining light on this unique craft.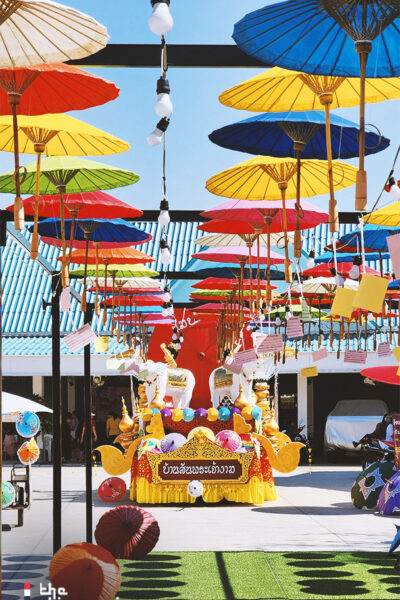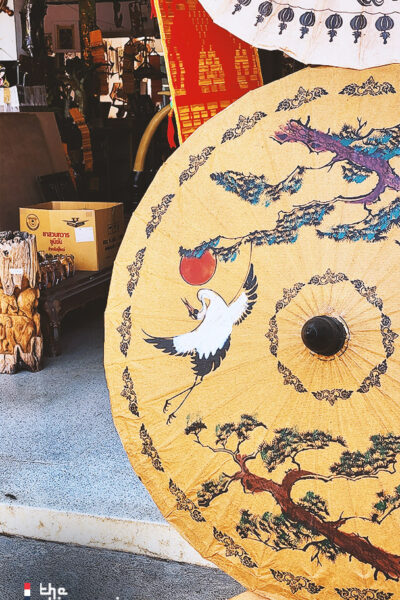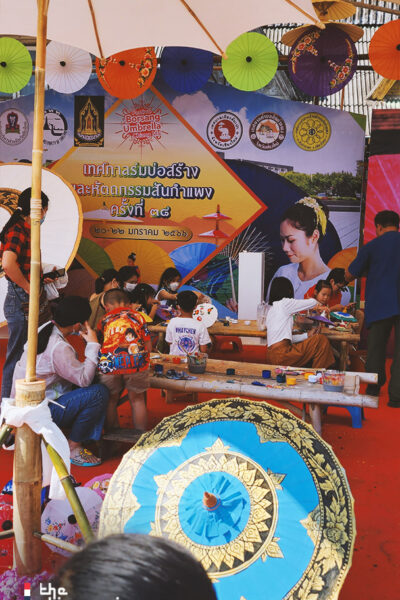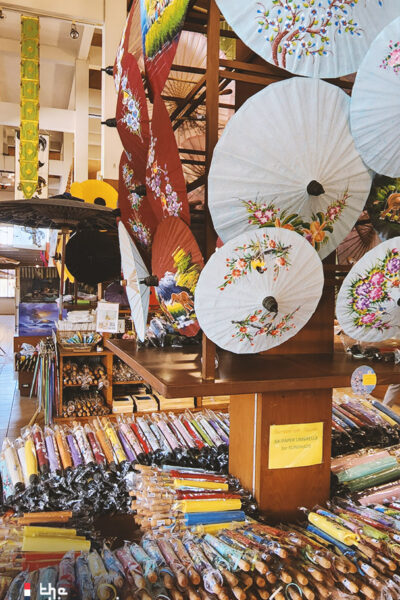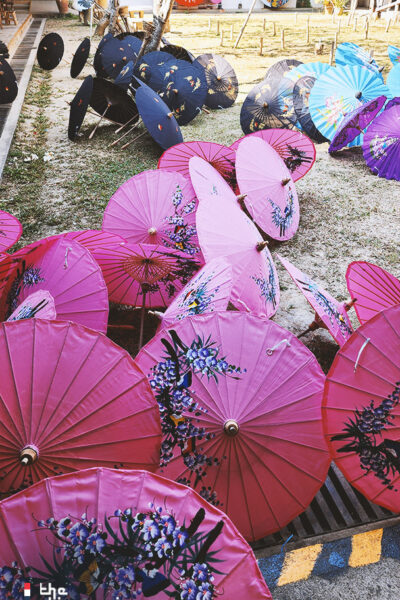 Why Every Traveler Should Experience the Bo Sang Village Umbrella Festival
Scheduled from January 20-22, 2023, the Bo Sang Village Umbrella Festival offers a cultural feast. Located a mere 30-minute drive from Chiang Mai, Bo Sang's main road will be the hub of all activities.
Opening Ceremony: Villagers in classic Lanna outfits welcome guests on bicycles at the kickoff event on Friday at 7 pm. Typically, Chiang Mai's Governor oversees this grand beginning.
Beauty Pageant Bicycle Parade: This isn't your everyday parade. Picture beautifully adorned women, dressed in traditional Lanna outfits, cycling down the road, balancing vibrant umbrellas in one hand. It's a visual treat and a testament to their impeccable skills.
Craftsmanship Galore at the Bo Sang Umbrella Making Centre: The festival offers a rare opportunity to witness the artistry involved in crafting these umbrellas firsthand. From women crafting the parasols to men meticulously painting intricate designs, it's a world of wonder.
Create Your Personalized Umbrella: Feeling inspired? Dive in and paint your own umbrella or even request a unique design when purchasing one. It's a beautiful souvenir, a piece of Bo Sang you can carry back.
Savor Local Delights: Thai cuisine is globally renowned, and here's your chance to try local dishes, ensuring your taste buds get a treat as rich as your cultural experiences.
Reaching the Festival
Navigating to Bo Sang is hassle-free. You could opt for a songtaew (Chiang Mai's infamous red truck) from Warorot Market at just 20 baht per person or hire a tuk-tuk, although it might cost a bit more.
Alternatively, modern transport services like Grab or Bolt can also conveniently take you to the festival.
Preserving Chiang Mai's Sacred Parasol
The Bo Sang umbrella is more than just a product; it's a symbol of Chiang Mai's soul. But with diminishing profits and changing trends, this craft is on the verge of fading away. The current generation of craftsmen is aging, with their progeny focusing on modern careers. The challenge now lies in innovating and reviving interest in this craft.
However, hope isn't lost. As travelers, visiting such festivals and appreciating the art can provide the much-needed boost to artisans. In fact, there's already talk of a potential Bo Sang brolly renaissance, with its umbrellas being featured as 'wearable art' in international media.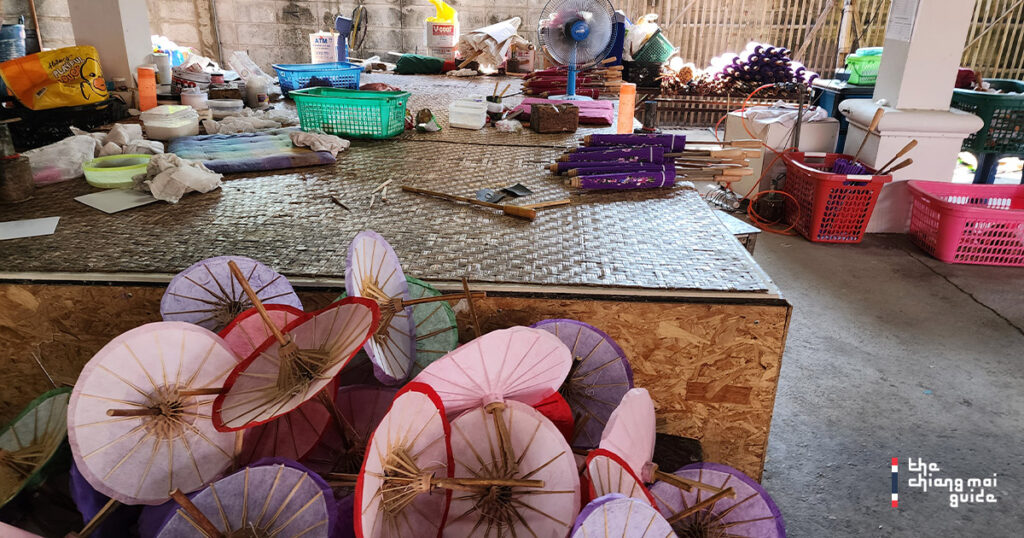 Summary
For those searching for an authentic experience, the Bo Sang Village Umbrella Festival is a hidden gem. Beyond its picturesque appeal, the festival is a call to support and preserve a dying craft. Here's your chance to witness and be a part of a unique cultural legacy. Don't miss out on this immersive cultural experience.
Come, let's celebrate the spirit of Bo Sang together!