Are you considering a trip to Chiang Mai in January? With high season in full effect and perfect weather with minimal rain, here's a few help things to prepare for Thailand.
Chiang Mai Thailand Weather in January
January is one of the best time to visit Chiang Mai. Known as the Chiang Mai "winter", you can expect lots of sunshine with chilly evenings that make it perfect sweater weather. Unlike the freezing cold during North American and European winters.
Typically, the weather in Chiang Mai is described as tropical, ranging from very warm to extremely hot and humid throughout the year. However, January brings cooler temperatures during the day, allowing you to comfortably spend more time outdoors.
Average Temperature: Chiang Mai in January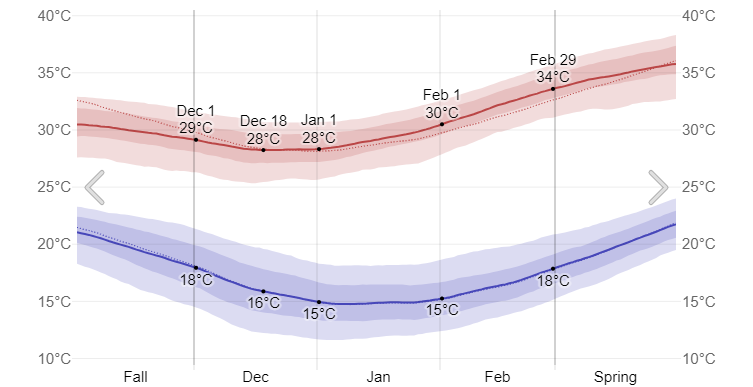 Temperature: Daytime highs usually range from 25°C to 30°C (77°F to 86°F), while nighttime temperatures can drop to as low as 10°C (50°F) or even a bit lower in the surrounding mountainous regions.
Rainfall: January is quite dry, with little to no rainfall expected.
Clothing: While days can be pleasantly warm, it's a good idea to bring some light sweaters or jackets for cooler mornings and evenings.
Must-Attend Events and Festivities in January:
While January is often known for celebrating the New Year, there's one unique festival you don't wanna miss. In a little village to the east of Chiang Mai is a place called Bo Sang. Each year, umbrellas are decorated and painted, followed by a cute parade of local Thais in traditional costumes.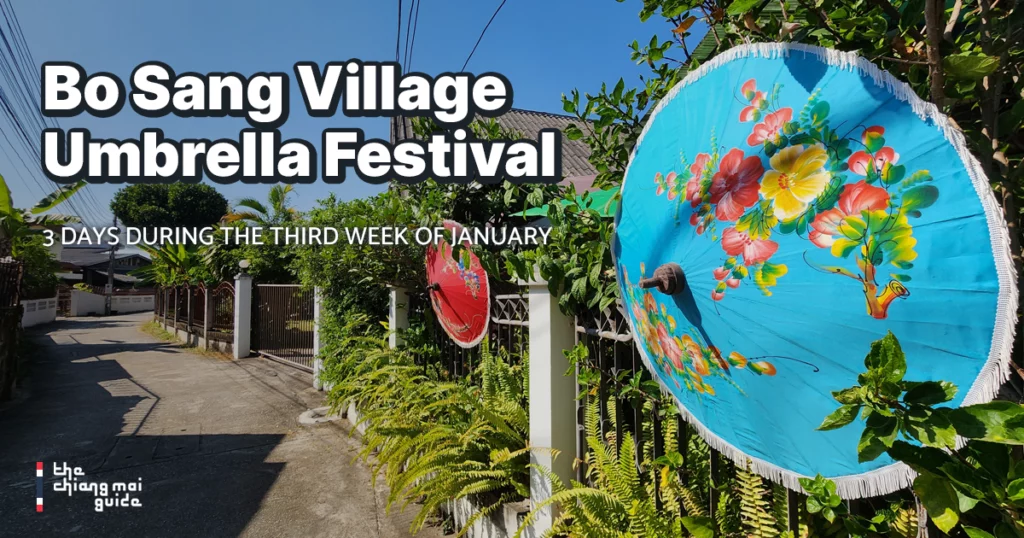 Concerns for Travelers in Chiang Mai, Thailand:
While Thailand is overall a safe country to visit, there are a few things to be aware of to ensure safety for you and your loved ones. As always, be respectful to local laws and cultures.
Air Quality: January is nearing the start of the "burning season" where farmers start burning fields, leading to increased air pollution around February and March. Keep an eye on air quality indexes.
Overcrowding: January is a peak tourist season. Some popular spots might be crowded. It's advisable to book accommodations and activities in advance.
Safety: Chiang Mai is generally safe, but always be cautious of your belongings in crowded areas.
Transport: While there are many modes of transportation like songthaews (red trucks), tuk-tuks, and Grab (similar to Uber), always negotiate prices beforehand to avoid overcharging.
Is January a good time to go To Thailand?
In my experience, Chiang Mai in January offers the best escape from cold winters in Canada, US, and Europe. If you plan on visiting, don't forget a cozy sweater or leave space in your luggage to buy some affordable cloths at the local markets.
Whether you're looking to wander through ancient temples, savor Northern Thai delicacies, or pen the ultimate travel guide, Chiang Mai in January awaits with open arms.
Safe travels, my friend!