With a significant Chinese population and a deep-rooted Chinese heritage, Chiang Mai's Chinese New Year celebrations are nothing short of mesmerizing. If you find yourself in this beautiful city during Chinese New Year, you're in for a truly spectacular treat.
What is Chinese New Year?
Chinese New Year, also referred to as the Lunar New Year, is based on the lunar calendar, which is why the date varies from year to year, usually falling between late January and early February.
This festival, which historically celebrates the beginning of a new year on the traditional Chinese calendar, has been observed for centuries and is arguably the most significant of Chinese holidays.
Chinese New Year in Chiang Mai is not just limited to China Town, but the entire city gets drenched in the festive spirit. Thanks to Chiang Mai's considerable Chinese population and the surge in Chinese tourists over the years, the celebrations have expanded, making it a popular destination during this time of year.
Chinese New Year 2023 in Chiang Mai
This year, 2023, ushers in the Year of the Rabbit. If you're curious about the Chinese zodiac and wonder which animal represents your birth year, you're not alone. It's a fun activity, especially for the kids.
Starting from January 21st and culminating on January 23rd, Chiang Mai will be washed in red.
During this time, you can enjoy vibrant parades, stage performances, traditional dragon dances, beauty contests, cooking shows, and more, primarily concentrated around Warorot Market, better known as Chiang Mai's China Town.
This bustling market, located just a 10-minute walk from the iconic Tha Phae Gate, becomes the epicenter of the festivities.
Celebrating Chinese New Year in Chiang Mai (2023)
January 21st: Stage performances from 6 pm, followed by the annual beauty contest.
January 22nd: An opening ceremony and parade between 7:30-9 am, dragon dance at 9:30 am, followed by stage performance, dragon show, and a fashion show from 7-10 pm.
January 23rd: Witness a traditional Chinese cooking show and competition between 4-6 pm and stage shows from 7-10 pm.
Pro Tip: Split your day by catching the morning parade and then unwinding by the pool or exploring other parts of the city. Return to China Town in the evening when the real magic unfolds.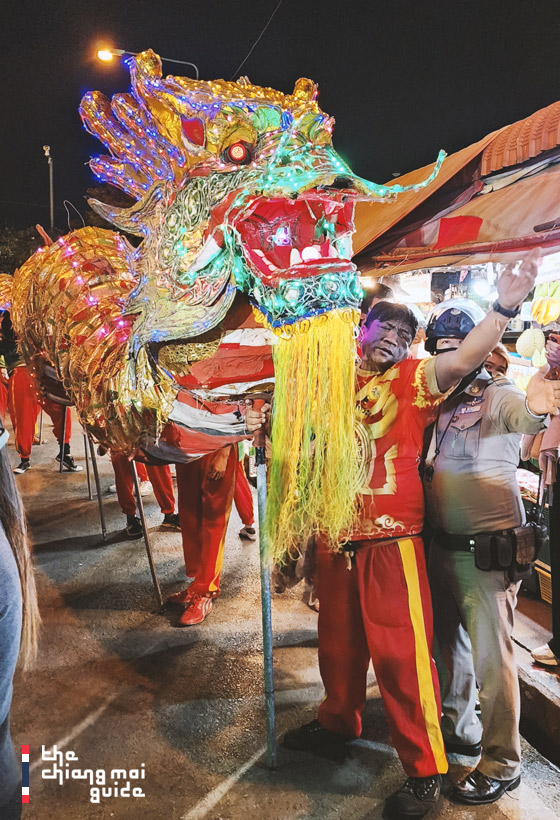 Where to go for Chinese New Year in Chiang Mai?
While Warorot Market is the heart of the celebrations, other parts of Chiang Mai also join in the fun:
Maya Mall: Though not widely advertised, in past years, there were traditional singing, dancing, and even acrobatic shows right outside the mall's entrance.
Central Airport Plaza: From January 19-25, they will hold daily celebrations and shows.
For those looking for authentic Chinese New Year dinners, consider checking out restaurants like Tulou, Shangri-La, and Furama.
What's the Significance of Chinese New Year?
Chinese New Year in Chiang Mai isn't just a one-day event. Celebrations can last up to 15 days, culminating in the Lantern Festival. Activities and customs during this period include:
Reunion Dinner: One of the most vital parts of the celebration is the reunion dinner on New Year's Eve where families gather to share a meal.
Red Packets (Hongbao): Elders give children and unmarried adults red envelopes filled with money, symbolizing blessings and good luck.
Lion and Dragon Dances: These are traditional performances that involve elaborate costumes, loud drums, and cymbals to chase away evil spirits.
Fireworks: Like the villagers warding off Nian, fireworks are set off to ward away evil and to bring in good luck and blessings.
Cleaning: Families clean their homes to sweep away bad fortune and make way for incoming luck. However, cleaning on New Year's Day is avoided to not sweep away the good luck that has been ushered in.
The Zodiac Animals
The Chinese zodiac cycle consists of 12 animals, and each year is associated with one. The cycle includes the Rat, Ox, Tiger, Rabbit, Dragon, Snake, Horse, Sheep, Monkey, Rooster, Dog, and Pig. Each animal is believed to embody certain characteristics, and people born in a particular animal's year are said to share those traits.
Why Celebrate?
Beyond the fun and festivity, the Chinese New Year holds deep significance. It's a time to:
Honor ancestors: Many families offer sacrifices to their ancestors, honoring their memory and seeking their blessings.
Reset: It's an opportunity to put behind the troubles of the past year and look forward to a fresh start with hope and optimism.
Strengthen familial ties: Reunions emphasize the importance of family and the strength drawn from unity.
In essence, Chinese New Year is not just a cultural or religious festival; it's an expression of hope, gratitude, and the joy of family, themes universal to all humanity.
Whether you're celebrating to keep traditions alive or to experience the richness of Chinese culture, Chinese New Year serves as a reminder of the importance of fresh beginnings and the endless possibilities that come with them.
Will you come celebrate Chinese New Year in Chiang Mai?