After exploring hundreds of cites in Asia, Chiang Mai is by far the best city I experienced and enjoy for long-term living. This peaceful mountain city, with its laid-back lifestyle, is a haven for travelers and nomads.
But what about safety? Is Chiang Mai safe for travelers?
Chiang Mai, like any urban space, experiences its share of minor crimes. But when compared to other cities globally, it's a generally safe destination.
Crime in Chiang Mai
According to 2023 crime ratings, Chiang Mai is ranked as one of the safest countries in the world. Chiang Mai's safety scores put it next to cities like Basel, Switzerland and Tokyo, Japan.
While violent crime is rare, there are some incidents of minor thefts or scams; for example:
24 Chinese and Thais were detained in Chiang Mai for romance scam targeting Japanese victims in May 2022. Scammers were using fake profiles to lure their victims into investing scams.1
The provincial office of the Bureau of Registration Administration issued a warning in July 2023 about a Line chat scam. Apparently, accounts were making false claims of being be able to issue citizenship ID cards.2
Its best to be cautious of who you choose to match with on dating apps. As a general rule, ask for a video call. Typically scammers are afraid to show their real face.
When it comes to public places, always keep an eye on your belongings, especially in crowded places. As with any city, it's best to avoid dimly lit areas late at night and be aware of your surroundings.
Gangs in Chiang Mai
While Thai cities have their share of gangs, they rarely target tourists. Gang activities in Chiang Mai are more about local disputes than organized crime syndicates preying on visitors.
However, you may hear incidents of human trafficking, such as the latest bust resulting in 3 underage victims being rescued.
Pollution in Chiang Mai: The Burning Season
One of Chiang Mai's significant concerns is air quality, especially during the burning season (February to April). This period sees agricultural burns, leading to thick smog over the city.
If you have respiratory issues or travel with kids, consider scheduling your visit outside these months. If you're in the city during this time, wearing masks and staying indoors can help.
Motorcycle Accidents in Chiang Mai
Motorcycles are a popular mode of transport, but they come with risks. Chiang Mai's mountainous terrains and sometimes unpredictable traffic can be challenging for inexperienced riders.
Statistically…
1 in 10 people who die on Chiang Mai's roads are foreigners; which adds to around 1,000 foreign tourist deaths per year.4
Speeding and drunk driving are the two common causes for accidents.
Honestly, I think this is quite disgusting. With ride apps like Grab and the cost to travel across Chiang Mai being way less than 200 baht (CA$7.63) – there's no reason to put other people's lives in jeopardy.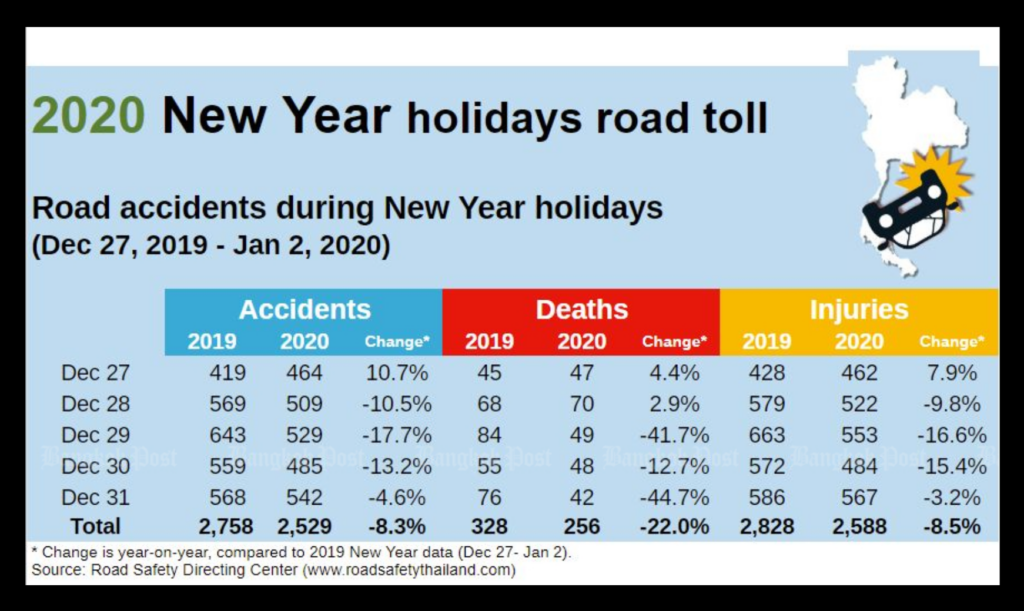 If you choose to ride, ensure you're familiar with the bike, always wear a helmet, drive defensively, and… don't drink!
Wildlife Concerns in Chiang Mai
While Chiang Mai is home to a number of beautiful temples and markets, it's also surrounded by thick jungle and mountainous regions. This means encounters with local wildlife.
Monkeys: Certain areas, especially around temples in the mountains (like Doi Suthep), have a population of monkeys. They can sometimes be aggressive, especially if they see food. Always keep a distance and avoid feeding them.
Insects and Snakes: As with any tropical region, be prepared for mosquitos and consider packing insect repellent. Although snake encounters in the city are rare, when trekking, be cautious and consider hiring a local guide.
As a general rule of thumb:
Don't f*ck with the monkeys and the monkeys won't f*ck with you.
Cultural Etiquette and Safety in Chiang Mai
Being respectful is not only about cultural sensitivity but also about your safety. Here are some tips:
Dress modestly when visiting temples.
Always remove your shoes when entering someone's home or certain businesses.
Avoid touching someone's head or pointing your feet at people, as these are considered rude in Thai culture.
Don't drink alcohol or smoke cigarettes/marijuana in or around temples.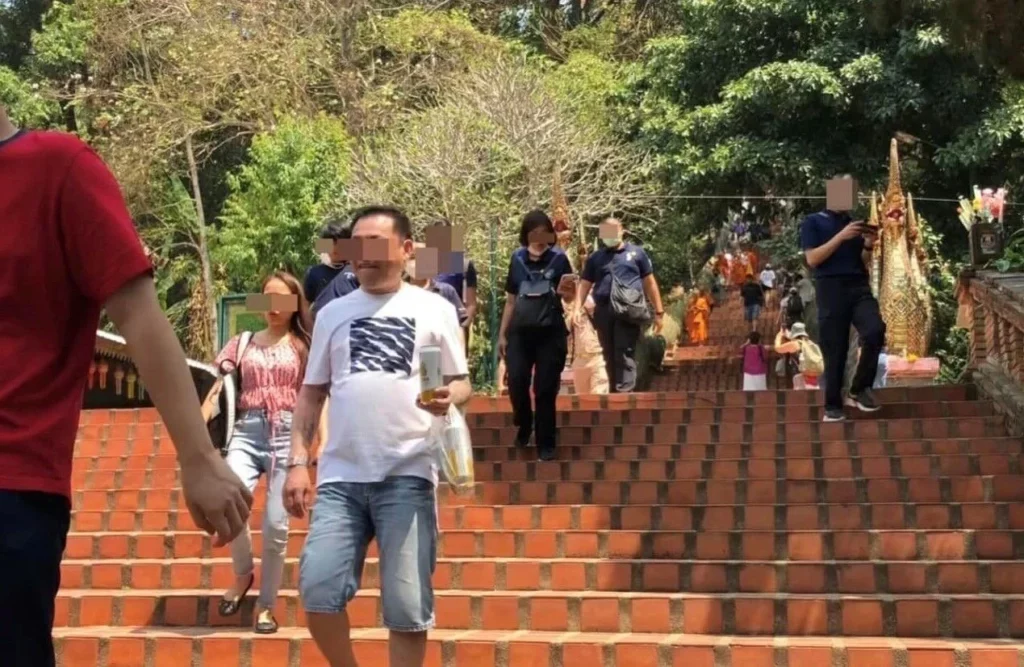 You might think that some of this is common sense, however, there are still foreign tourists who go to temples with a can of Singha in hand.
While this may seem harmless, you could trigger a micro-riot of locals attacking you for disrespecting their culture and not obeying the law.
Safety Tips for Chiang Mai
Stay Alert: Whether you're exploring the Old City or venturing to remote areas, always be aware of your surroundings.
Avoid Overindulgence: While the nightlife is vibrant, avoid excessive alcohol consumption and always have a safe way to return to your accommodation.
Secure Valuables: Use hotel safes for passports and valuables. Don't flash expensive items.
Local Etiquette: Respect local customs and traditions, especially in temples. Dress modestly and always ask before taking photos.
So… is Chiang Mai Safe?
Yes, Chiang Mai is safe.
I've been living here for more than 3 years and the biggest issue I experienced was an aggressive foreigner in a car. I was walking on a main street in the old city.
If you've ever walked around, you'll know there's no side walk.
Anyway, the driver nearly hit me then he stalked me down the street before eventually exiting the car to try and pick a fight with me.
SOURCES