Knowing the best time to visit Chiang Mai is critical for a memorable trip. While Chiang Mai is a popular tourist destination for its tropical weather, low costs, and mouthwatering food, it's also known for its hellish heat, heavy rain, and burning season. Discover the best time of year to visit Chiang Mai, Thailand.
Explore Chiang Mai Tours
When is the best time to visit Chiang Mai?
While Chiang Mai is a year round holiday destination, some months are significantly better to visit than others.
Having lived a full year in Chiang Mai, I consider late October to early January to be the best time to visit Chiang Mai.
But you may not be like me and relocating to Chiang Mai. Instead, here's a break down of the different season to help you plan a holiday in Northern Thailand.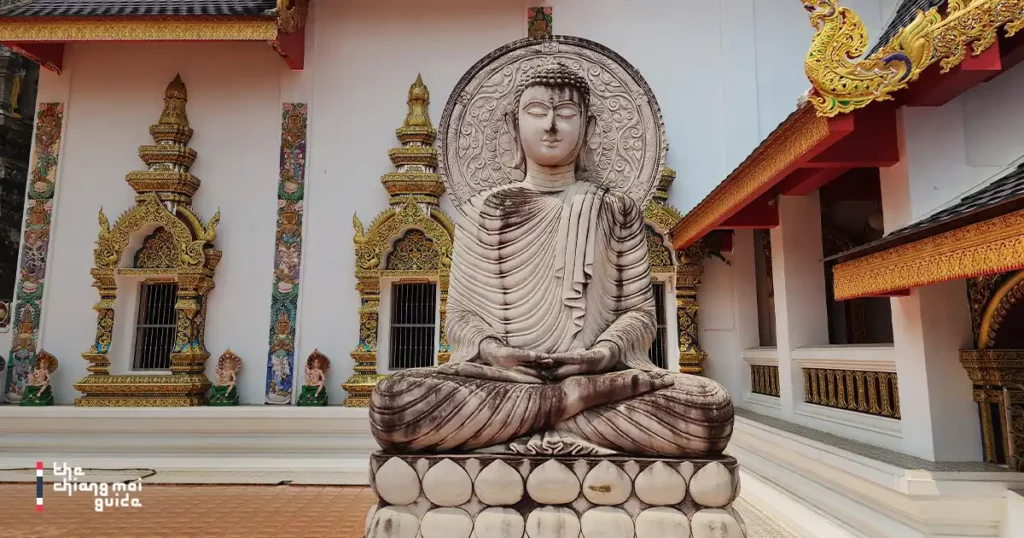 Chiang Mai's Weather & 3 Seasons
Chiang Mai is the biggest city north of Bangkok. It's a 2 to 3 hour drive from the border of Myanmar, located northwest, and Laos, located northeast.
This ideal spot makes Chiang Mai a haven for digital nomads. But its also the perfect getaway for tourists who want a deeper experience of Thailand's culture.
Being a mountainous city, with an altitude of 300 meters, Chiang Mai is loved for its cooler weather compared to other cites like Bangkok or Krabi.
However, don't be misled to think that Chiang Mai lacks hot weather. It is less humid than other places but also unpleasantly hot during the summer season. If that's what you like, then maybe this would be the best time to visit Chiang Mai.
The 3 Seasons of Chiang Mai
Chiang Mai has 3 distinct seasons: the cool season, the hot – and smokey – season, and the rainy season.
Cool, Dry Season (November — February)
Hot, Humid Season (March — May)
Rainy Season (June — October)
In addition, Chiang Mai has an unfortunate issue with smog due to farmers burning their fields. This is known as the burning season or smokey season.
End of February to April is NOT the best time to visit Chiang Mai.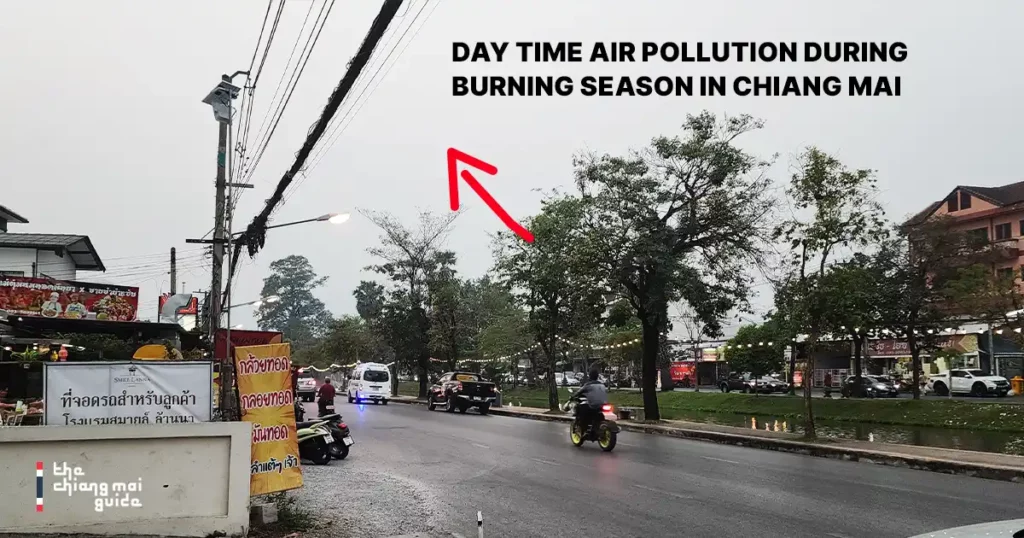 If you have a sensitivity of air pollution, I recommend avoiding Chiang Mai this time of year. It also makes for an unpleasant experience with the humid weather and lingering smog that blocks out the sun for majority of the day.
You can see what life really looks like in this article and decide for yourself whether Chiang Mai is worth visiting from February to April.
Why Visit Chiang Mai in the Cool, Dry Season (November — February)?
This is my favorite time to visit Chiang Mai because the weather is perfect to enjoy sightseeing around the city.
Temperatures can drop as low as 14°C (57°F) in the evening. Be sure to keep a sweater with you in case you stay out late, especially if you're riding around on a motorbike.
Day time temperatures in December and January ranges from 28-30°C (82-87°F) degrees. While the city itself will be a little warmer, the mountain weather feels incredibly cold. So if you're visiting places like Chang Dao or Mon Jam, bring some warm clothes.
One thing to keep in mind is that January is the best month to visit Chiang Mai and gets a massive influx of tourists. If you can come in November, you can avoid the crowds and experience the Loi Krathong festival.
When is the hottest month to visit Chiang Mai?
April is the hottest month of the year. The temperature can go beyond 30°C (104°F) with high humidity.
Thai new year is also celebrated in mid-April. So you if can with stand the heat for a few days, you can enjoy the water festival in Chiang Mai.
Chiang Mai Weather & Rain
| Month | High / Low (°C) | Avg. Rainfall |
| --- | --- | --- |
| January | 29° / 14° | 0 days |
| February | 33° / 15° | 0 day |
| March | 35° / 19° | 1 day |
| April | 36° / 22° | 5 days |
| May | 34° / 23° | 13 days |
| June | 33° / 23 ° | 12 days |
| July | 32° / 23° | 14 days |
| August | 31° / 23° | 17 days |
| September | 32° / 22° | 15 days |
| October | 31° / 21° | 9 days |
| November | 20° / 18° | 4 days |
| December | 29° / 15° | 1 day |
Source: NOAA
Best Time to Visit Chiang Mai for Events & Festivals
Chiang Mai is famous for its special events or festivals. If you're looking for the best time to visit, try lining up your travel itinerary to include one of these famous experiences.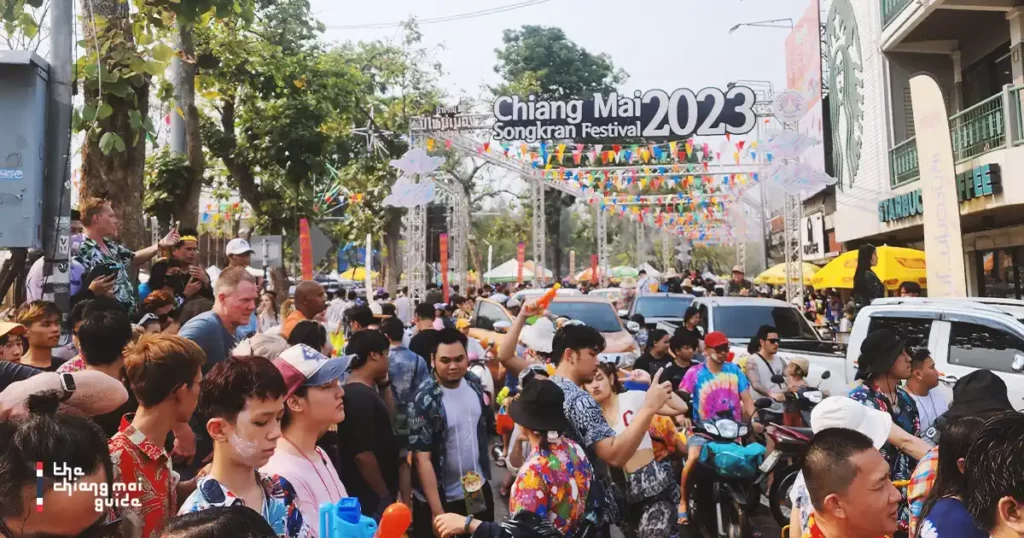 January
Bo Sang Village Umbrella Festival is a fun festival in a small town on the outskirts of Chiang Mai. Hundreds of hand-made umbrellas decorate the town with an annual bicycle parade and beauty pageant. You can also spend the afternoon at the umbrella making factory to get a one-of-a-kind umbrella and parasol.
February
Chiang Mai Flower Festival is an annual event celebrating the Chiang Mai's flowers and ornamental plants. For 3 days, many local communities and districts will assemble stunning flower-inspired floats and parade them around the old city. This is truly the most colorful event in Thailand, attracting 1000s of floral enthusiast from around the world.
March
National Elephant Day is a special time to honor and commemorate Thailand's national animal. Chiang Mai has dozens of elephant sanctuaries that are open year round but on this particular day you can enjoy the deep appreciation Thailand has for this sacred animal. From special elephant shows to traditional blessing ceremonies, this is the best time to visit Chiang Mai to see the elephants.
April
Songkran Festival or Water Festival is what I believe a must-experience event in Thailand. For 3 days in April, the entire country has a water war, with major streets closed to traffic for people to enjoy all-day water fights. Even though April is the hottest month to visit Chiang Mai, you have to experience this festival at least once in your lifetime.
June
Pu Sae Ya Sae Festival marks the start of the rainy season in Thailand. During this festival, water buffalo are sacrificed and eaten raw as a tribute to gain favor from guardian spirits. This unusual festival with its witchcraft vibes is one for the true travel junkies seeking real world experiences.
November
Loi Krathong Festival The Thai Festival of Lights is an annual event that takes place on the evening of the 12th full moon. The exact date changes each year as it follows the Thai lunar calendar. People from all over Chiang Mai come to the Ping River to release their Krathong, a small container made of leaves with flowers or desserts, as an offering to the river spirits.
Final Thoughts
Have you found the right time to travel to Chiang Mai for your upcoming holiday? If you're a fan of the heat and don't mind the rain, the summer season offers a budget-friendly travel experience.
While Chiang Mai is a year round holiday destination, I'd highly recommend avoiding the burning seasons. Having lived through 2 seasons, I can confidently say that quality of living is drastically lower when there's smog in the air all day, every day.