The Certificate of Residence, also known as the Residence Certificate or TM. 16, is an essential document for foreigners residing in Thailand, this includes Chiang Mai.
This vital document serves as your official proof of address, which you need if you plan to open a bank account, apply for a driving license, and obtain a work permits.
In this article, I'll guide you through the process of obtaining a Certificate of Residence in Chiang Mai, focusing primarily on applying with the Immigration Bureau.
Who Needs a Residence Certificate (TM. 16)?
Any foreigner residing in Chiang Mai will need a Certificate of Residence to:
Open bank accounts
Apply for a driving license
Acquire work permits through the Labour Department
Purchase a vehicle
Apply for permanent residency in Thailand
Where to Obtain the Residence Certificate in Chiang Mai?
If you are living in Chiang Mai, you can apply for your Residence Certificate at your local immigration office, as the main Immigration Bureau at Chaeng Wattana caters to residents of Bangkok. Ensure you use the TM. 18 Application form when applying.
Required Documents
To apply for a Certificate of Residence in Chiang Mai, you will need:
Passport and a copy of the photo page
Copy of your Visa
Copy of your TM 6 Departure Card
Two passport-sized photos
Copy of receipt of address notification (TM 30)
Ensure all documents are signed in BLUE ink across the actual image to prevent misuse. Depending on your specific case, additional documents may be required.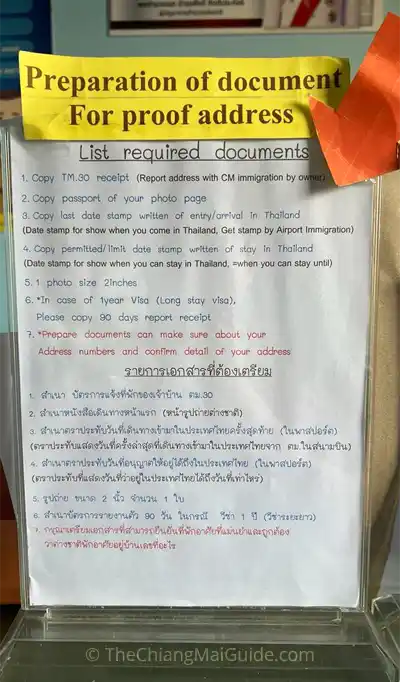 Application Process
The certificate typically takes around 1 business day to process, though you might have to wait up to 2 weeks to receive it.
Gather all required documents and copies.
Visit the local Immigration Office in Chiang Mai.
Submit your documents and pay the application fee of 200 baht.
Receive a receipt for your application.
Final Notes
Obtaining a Residence Certificate in Chiang Mai is a straightforward process, provided you have all the necessary documents prepared. Stay organized, apply early, and follow up if needed to ensure a smooth application process.
FAQs
Can I use the Residence Certificate outside of Chiang Mai?
Yes, the certificate is valid throughout Thailand.
How long is the certificate valid?
The Residence Certificate is typically valid for 30 days. Always check the expiry date on your certificate.