If you're planning a trip to northern Thailand in January, you might want to stay away. From January to March is Chiang Mai's burning season, a time when the entire city is engulfed in smoky, smoggy air.
Here's a quick guide to help you prepare — or escape — the three months of poor air quality in Chiang Mai.
What Cause Smoky Season in Chiang Mai?
Chiang Mai's smoky season is primarily caused by the agricultural burning.
Throughout the dry season, farmers in northern Thailand burn crop residue as a low cost and efficient method of clearing fields for future planting.
Although this practice is illegal, farmers continue to burn their crops to cut costs on hiring workers and speed up the time to use their fields again for the next crop cycle.
Thai farmers are not the only ones to blame for the polluted air carrying ultrafine particles (PM 2.5).
Neighboring farmers in Laos and Myanmar also use slash-and-burn techniques to prepare their land for growing season.
Since Chiang Mai is surrounded by mountains — Doi Saket, Doi Suthep, and Doi Inthanon — this creates a deep valley that traps the smog within the city.
Keep in mind that burning season is also the dry season. There is little to no rain which makes the air extremely dry and toxic.
When is Burning Season in Chiang Mai?
During burning season, it is common to see a thick haze hanging over the city, causing visibility issues and respiratory problems. But the exact start and end dates vary year by year.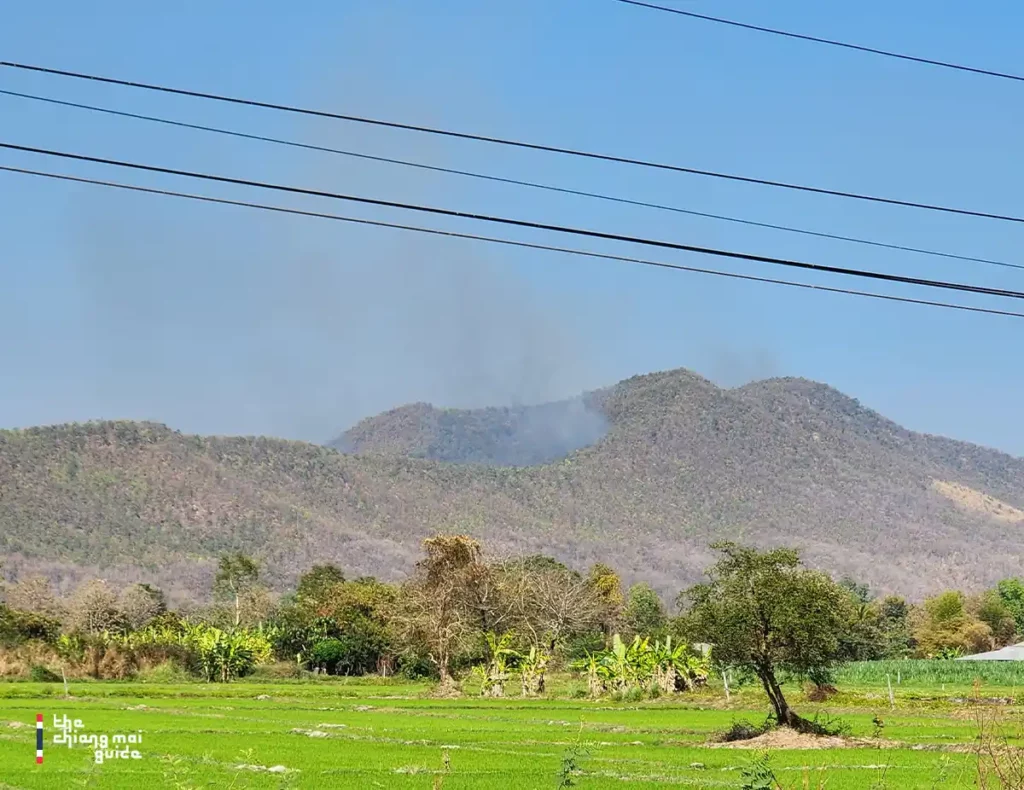 When Does Burning Season Start?
While there's no official "start date" for smoky season, farmers begin burning as early as the end of January. Combined with some of the hottest weather, February to April is not the best time to visit Chiang Mai.

When Does Burning Season End?
Unofficially, the burning season tends to clear up by the time Songkran (Thai New Year / Water Festival) comes around. By mid-April, it is relatively safe to start traveling in Chiang Mai again to avoid the poor air quality. But that's just my perspective, having lived through 3 burning seasons so far.
Tips for Chiang Mai's Burning Season
If you're lucky, you may experience a day or two of rain during burning season. This tends to clear up the pollution and makes the mountains visible again.
But for the die hard who want to stay in Chiang Mai, no pun intended, here's a few tips to make life a little better:
1. Invest in N95 Masks
If you're a smoker or pot head – you may not care for your lungs or health. But for anyone else, an N95 mask is the best you can get to protect yourself from the fine, toxic particles in the air.
You can easily purchase these masks at a 7/11 or online from Lazada.
2. Get An Air Purifier
An indoor air purifier is a smart investment, especially for anyone living long term in Chiang Mai.
I have friends that go to the extreme and use plastic and duct tape to cover up their windows to prevent any harmful air from entering their home. Combined with an air purifier, this is likely the most effective way to ensure healthy air during the burning season.
3. Just leave!
If you have the budget, get as far away as possible from Chiang Mai. I seriously don't recommend visiting here during this time.
I personally find it to get depressing to wake up in a world of smog for 2 to 3 months.
Plus, there are so many stunning (and affordable) places in Thailand. For example, I plan to escape the 2024 burning season by exploring a new life in Krabi.
Final Thoughts
Chiang Mai is a beautiful city and perfect for digital nomads. The only downside is the three months of the year when the entire city is covered in a blanker of toxic air.
For any tourists, you 100% must avoid Chiang Mai during the burning season.
You'll enjoy a more memorable trip if you come when the skies are blue and the city's air is clean.
Chiang Mai Travel Packages
Make a memorable trip to Chiang Mai: